Volunteers plant dozens of trees to help Lexington environment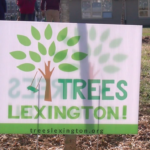 LEXINGTON, Ky (WTVQ)- Dozens of volunteers and residents braved the cooler temperatures to help plant trees in Lexington Saturday.
Trees Lexington! held a tree planting at William Wells Brown Elementary School and Community Center. The tree planting was part of the organization's community tree planting pilot program.
It's made possible by a grant from the city of Lexington and is aimed at increasing tree canopies in Lexington districts.
The event also included food, kids activities, and community building.
Organizers say tree canopies play a vital role in helping not only the environment, but also the community.
"Trees bring so many benefits to us. Heat islands, so think about shade that the trees provide. They absorb a lot of storm water, they clean the air, but most importantly they beatify space, so that's what we are trying to do for Lexington, and increase our tree canopy," says Michael Potapov, a member of the Trees Lexington! Board of Directors and volunteer.
Trees Lexington's next event is at Bainbridge Place on December 2nd.