Sports league continues mission of providing inclusiveness, support for LGBTQ+ community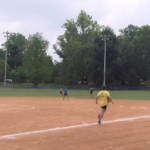 LEXINGTON, Ky (WTVQ)- For thousands of Kentuckians, sports is a way to learn valuable lessons like teamwork and hard work and provide positive experiences. But in many places, sports can be a negative experience, especially for those in the LGBTQ+ community.
That's why a growing sports league here called Hotmess Sports is aiming to combat that.
"So Hotmess sports is an adult sports league much like your other adult sports league. But it is inclusive to our LGBTQ+ community," says Chris Pablo, who is serving as the commissioner for the league.
The league's mission: providing a safe and fun space for the LGBTQ+ community. The league has nearly doubled its' members since it was founded in 2021.
"With everything going on in the world at large, but even in our local community, it matters for the LGBTQ+ community to have organizations or spaces that they can go to to be their authentic selves," says Pablo.
Member Zach Goble understands the feelings and hardships that some of his fellow members have gone through.
"I grew up in eastern Kentucky, a really athletic guy but didn't always fit in as a closeted-gay man growing up in eastern Kentucky," Goble explained.
Goble says since joining three years ago, the league has become his community and family. It's a place he can bring his kids to watch on a Sunday afternoon.
"For a lot of gay kids, sports weren't fun. Because you were the ones that were ostracized. You were the ones who weren't athletic maybe, the ones who necessarily didn't fit in. So this is a way to take it back," says Goble.
The growing sports league welcomes the community, their allies, and anyone who is comfortable with playing. The league is about kick off a new kickball season. It also offers volleyball and corn hole during other seasons. A dodge ball season is also in the works.
Pablo says the good thing is you don't have even have to know the rules of the games to play.
"So you don't have to know, ever have touched a kickball or volleyball in your life to come and join Hotmess. We just want to show up, have a good time, there's a lot of folks that will help you learn but also just do your best, and honestly, just be a hot mess," says Pablo.
The league is always looking for new members and sponsors. For more information about Hotmess, click here.