Skeletal remains found in wooded area in Morehead identified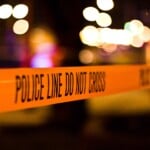 MOREHEAD, Ky. (WTVQ)
10/2/23
The remains have been identified as Brian Doyle, the State Medical Examiner's Office said Monday.
Doyle, of Cynthiana, was 55.
No further information was released.
9/24/23
The Morehead Police Department is investigating after they say skeletal remains were found Sunday afternoon.
The department says they responded around 4 p.m. to a remote wooded area in the city limits, where a person found the remains.
The department and the Rowan County Coroner's Office confirmed the remains and began a search of the scene.
The search ended at dark but will continue on Monday.
The skeletal remains have been taken to the State Medical Examiner's office in Frankfort.
Officials continue to investigate.