FCPS continues activities after launching Read Talk Play initiative
FCPS and First 5 Lex brought in American children's author and musician John Archambault for a live concert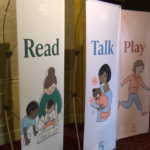 LEXINGTON, Ky (WTVQ)- Fayette County Public Schools launched a new early childhood initiative this week for the county. And on Sunday, kick off activities wrapped up at the Lexington Opera House.
FCPS and First 5 Lex brought in American children's author and musician John Archambault for a live concert.
Archambault is the author of "Chicka Chicka Boom Boom."
The initiative, called "Read, Talk, Play" is aimed to help encourage adults to be more hands-on in their children's early education years, like helping them learn letters and read words on signs.
"We hope this initiative that is like, its going to be game changer for Fayette County," says Dr. Whitney Stevenson, the director of early childhood for FCPS. "It's going to change the trajectory of lives for children and families. And we hope to become a national model of what we're doing here, so we hope that this initiative just becomes part of living in Lexington."
For more information about the initiative, click here.