EKU leaders cut ribbon on new veteran memorial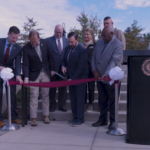 RICHMOND, Ky (WTVQ)- Eastern Kentucky University held a ribbon cutting Saturday for a new veterans memorial on campus.
The veterans memorial is located in the Carloftis Garden near the intersection of Lancaster and Park Drive.
It displays an American flag and flags that represent the branches of the military.
The memorial includes a granite slate with inscribed names of those who have given their lives while serving, as well as benches dedicated by veterans and their families.
The university says the new location provides designated parking for visitors.
Leaders say the memorial helps honor veterans while providing a more spacious venue to remember those who made the ultimate sacrifice.
"Today is truly a day of celebration. It is a day for us to remember, to have reverence for and to recognize those who give most," says EKU President David McFaddin.
"I have never seen or heard of a university that prioritizes military and veterans family more in the entire united state than Eastern Kentucky University," says U.S. Congressman Andy Barr.
The university says more than 150 people attended the ceremony, including Barr and Richmond Mayor Robert Blythe.
According to the University, EKU is home to 1,656 veterans, active-duty service members, reserve/national guard members and military spouses and children, as of fall 2023.