Addiction recovery community holds annual Rally 4 Recovery in Scott County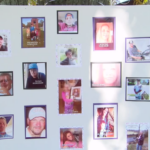 GEORGETOWN, Ky (WTVQ)- Dozens of community members, resource organizations, and leaders in Scott County came together to remember lives lost to drug addictions, while also celebrating those in recovery.
The annual Rally 4 Recovery returned to Georgetown Saturday.
When asked what brought Timothy Cox out of his drug addiction, he says:
"Just really hitting rock bottom and watching other people pass away and realizing man, my kids need me."
Cox has been in recovery now for nearly a year. He's a participant in the Scott County drug court. Cox was one of dozens of people attending the annual rally at Scott County Park.
The annual event entered its fourth year and includes guest speakers, sharing their stories of recovery.
"This kind of helps connect them with people in the community. So when they go to treatment, and they come back to Scott County, they have a community of people that are int he same place that they are. They learn safe ways to have fun," says Laura Harney, a co-organizer of the event along with her sister Meggan Roaden.
The rally also included community resources- raffles and games, and a memory wall honoring those lost to drug addictions.
"We don't want today to be all about the negative things, but we do wanna honor the people who didn't make it to recovery or didn't have the chance that some of the other people have gotten. So we do wanna make sure that we honor those people," says Harney.
Organizers say while there are more resources available, still more help is needed.
"The view of how things need to be done is changing a lot, that we need to offer more resources and treatments and things like that to change the cycle of whats going on," says Harney.
And for those who are struggling, those in recovery share this message.
Chris collett/ in recovery
"Keep trying, don't give up. You have a chance. If you're alive and breathing, you have a chance," says Chris Collett.