8th annual VA 5k helps raise money for Lexington Fisher House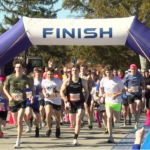 LEXINGTON, Ky (WTVQ)- On Sunday afternoon, hundreds of runners, walkers, and riders made their way around the VA campus on Leestown Road to help raise money to support veterans and their families.
Sunday marked the 8th annual VA 5K, which helps raise much-needed funding for the Lexington Fisher House and the Lexington VA Healthcare System.
The Fisher House provides a place for veterans and their families to stay and eat at no cost, while receiving treatment at the VA or hospital.
More than 400 runners participated in the 5K, which included group awards, door prizes, a petting zoo, and much more.
"All the money, all the proceeds for this race goes directly to the Lexington Fisher House, right here on the campus. That house not only supports the veterans in the community, but the families in our community. So we want everyone to come out to not only come out and see the house but also to support it," says Patrick Sinclair, the Voluntary Service Officer for the Lexington VA.
Tom Kenny, President of the Friends of the Lexington Fisher House, says the non-profit was started seven years ago with the goal of building a Fisher House in Lexington. "Friends" raised $9 million to help build the house, which was opened in April.
Kenny says the Lexington Fisher House has continued to help veterans and their families in Kentucky and across the country.
"We get so many veterans come in from eastern Kentucky. Many of them are low income. It's a long drive. And the families simply cant afford a hotel. So here's a place where we say don't worry about it. You can stay here with all the comforts of home, all the privacy that you want. All the support that you need. And you'll never receive a bill," says Kenny.
According to the VA, since opening in April, around 321 families totaling 700 guests from across the country have stayed at the Lexington Fisher House while getting the care they need. The Fisher House has saved those families more than $200,000 in lodging costs alone.